All is not well in Nepal.
A very disturbing news has been made public by Dristi weekly dated April 3, 2018, that authentically claims that Nepal's foreign minister is not in good speaking terms with his own party President who is also the country's Prime Minister.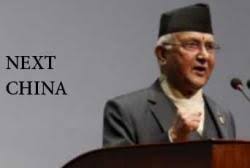 According to the weekly, FM Gyawali in a very surprising manner recently said that he got to knew that the Nepal Prime Minister was visiting New Delhi through the media only.
If true then what could well be guessed in advance that PM Oli's trip to New Delhi will bring in no specific gains for Nepal as the Foreign Minister himself has no in-depth knowledge of the PM's Delhi visit.
But our own sources claim that the Indian Ambassador Mr. Puri has met FM Gyawali several times in the recent weeks and that in such meetings between the two they both must have talked about the impending visit of Nepal PM to Delhi that begins shortly.
What could be more dangerous for a nation like Nepal whose Prime Minister and foreign minister do not share their ideas and views on the visit they both are scheduled to embark upon within a week or so?
Some say that PM Oli's visit to India is agenda less and that no political matters as such shall be discussed or brought to discussion while Nepal PM Meets his clever counterpart in Delhi.
Yet those who understand Delhi better claim that India as usual press Nepal this time also to assure the host country about the "guarded safety" of its flimsy security concerns.
The Nepali river capture and other arm twisting agenda must have been there which Nepal PM has to face while being in Delhi. Guaranteed.
India of late has been alarmed by the China's increasing influence in Nepal and feels insecure that Nepal may allow China to approach close to Nepal-India borders.
Just the other day, the Chinese envoy, Ms. Yu Hong, landed in Bhokraha and Laukahi villages situated very close to Koshi river and met with the Koshi flood affected Nepali population.
In addition to this, Indian concern has increased manifold with the sudden arrival of the Pakistani Prime Minister Abassi for a whirl wind tour to Nepal last month.
The Pak Prime Minister was greeted in Nepal in a befitting manner to what he deserved.
With these developments seen in Nepal after the India imposed economic blockade, Delhi thinks that Nepal-China-Pak trilateral schemes were in the offing aimed at teasing India and India alone for long time to come.
To recall, India's domineering presence in South Asia has seen a dramatic slide in the recent months wherein either China or Pakistan have entered into the playground considered to be the sole preserve of the Indian establishment.
The manner Pakistan Army Chief had been greeted by the Maldives government must have strained the brains of the South Block mandarins.
As if this were not enough, the Sri Lankan President was the guest of honor during the Pakistan national day celebrations.
All said and done, Nepal PM Oli is thus expected to receive a red carpet welcome in Delhi this time. Oli may be seduced by PM Modi not to cause more tensions to Delhi by inviting China closer.
Nepal PM Oli, as has been claimed by high placed sources, is all set to embark on a meaningful visit to China just upon his return from New Delhi.
Preparations in China to greet PM Oli has already begun, say sources.