Fresh reports that have emanated from Delhi, home away from home for the Nepali leaders of the modern era more so after 1990 sponsored change, is not only alarming but also bodes ill for Nepal.
Nepal once again is set to be the loser.
Sources close to D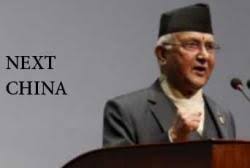 elhi regime hint that this time when Nepal Prime Minister KPS Oli will be greeted in Delhi, will have no time to present his views or say the grievances to his counterpart.
In charting such an agenda less trip to Delhi, the host country has capped the likelihood of Nepal expressing its serious concerns over matters such as land encroachment, illegal construction of dams along the no man's land across the country and on telling Indian regime to halt micromanaging Nepal that Ambassador Puri has been very tactfully accomplishing unhindered.
Ambassador Puri has been exceeding his diplomatic limits.
Indian envoy Puri is present in each and every program not only in the Capital but his presence could well be seen even in the remote parts of the country.
Observers remain askance as to how this Indian envoy could manage to attend the entire programs held across the country in a day or two? But he satisfies the organizers and graces the function without fail.
It is, however, not known whether this Indian envoy attends such programs "on invitation" or simply drops at the function to get briefed by his scattered sleuths on Nepal-India relations?
The Indian Foreign Minister Sushma Swaraj too has a habit of landing in Nepal uninvited and thus no wonder that her ministry officials, such as Ambassador Puri, should copy her erratic accts.
The Indian FM was here in Kathmandu. She came uninvited, as the Nepali media reported then.
The Indian envoy is no less busy than our PM KPS Oli. The motive could be different though.
Thus the micro-management continues with proper finesse.
PM Oli can register no complaints as this visit is limited to embracing sessions only. No political talks. Oli cannot complain as to how the SSB men enter Nepal and beat Nepali nationals for reasons yet unknown to Nepal and the Nepalese.
The chances of imposing yet another blockade remain high on the agenda in this agenda less trip should Nepal ignore Delhi over Beijing. Let us hope so.
So Nepal PM is visiting Delhi without having any list of items which means that he will be not allowed to speak on behalf of Nepal.
Nepal PM will have no chance then to raise the issue of the fifty acres of Nepali land recently gulped by India along the border close to Birganj .
If it is so then the visit is useless for Nepal. Should this mean that KPS Oli has been invited to India only to send signals to Beijing that Oli was their man?
Some critical observers even say that PM Oli is visiting New Delhi just to present his credentials.
Perhaps yes, observers say.  However, we are not sure of such accusations.
March 29, 2018. Photo Courtesy: The Spotlight Weekly. Thanks.